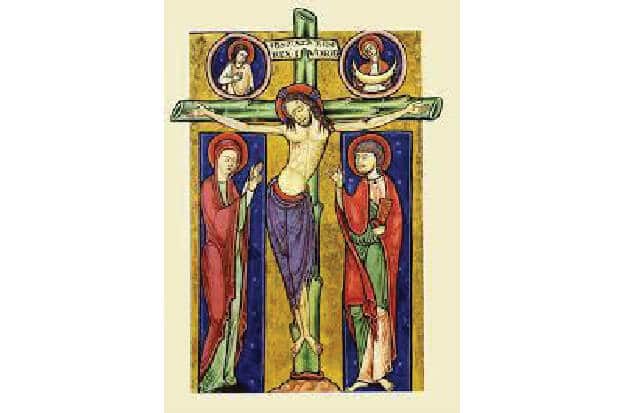 27Then he said to the disciple, 'Here is your mother.'
John 18:1-19:42

In the Beginning, on the sixth day, on the very first Friday, God created humanity and called us "very good." Today is another Friday. We call it Good Friday. Today, Jesus recreates humanity in God's image once again. Creation and the cross — the two are inseparable .

I mentioned yesterday that I wanted to recover something of the shock of the passion narrative. Yesterday Jesus insisted that we are forgiven before we sin. Today on the cross, Jesus compares himself to a mother giving birth. I am not making this up.

"Meanwhile, standing near the cross of Jesus were his mother, and his mother's sister, Mary the wife of Clopas, and Mary Magdalene. When Jesus saw his mother and the disciple whom he loved standing beside her, he said to his mother, "Woman, here is your son." Then he said to the disciple, "Here is your mother."

(John 19:25-27)

Of course, the most obvious interpretation is that Jesus is saying to Mary, "Mom, John is now your son, take care of him." And then he turns to John and says, "Here is your mother." In other words, "My mother is now your mother, please take care of her." It is a beautiful act. The cross reconstitutes and recreates the family. We are all family at the foot of the cross. This is a good and fruitful interpretation, but texts like these have many layers.

Theologian James Alison points out that when Jesus said, "Woman, here is your son," he is referring not only to John, but to himself." In other words Jesus is saying, "Mom, look at me. I am your son, the one to whom you gave birth." And then Jesus looks at John and says something truly stunning: "John, behold, I am not only my mother's son. I am not only your friend and brother. I am your mother giving birth to New Creation."

It is not far fetched. Jesus had already compared himself to a mother hen longing to gather her chicks (Luke 13:34). And let's not forget the first day of creation in Genesis when the Spirit of God (which is the feminine noun "Ruach") hovers over the deep, like a mother hen brooding her chicks, calling forth life (Gen. 1:2). Yes, the first image of God in Scripture is the image of a mother giving birth!

In Jesus' final act on the cross, "He bowed his head and gave up his spirit" (v. 30). He released the same "spirit" that swept over the face of the deep in the beginning. Jesus released his spirit into darkness and chaos. For three days Jesus' Spirit hovers and broods like a mother hen, calling forth life from death. In fact, the Gospels tell us, "darkness came over the whole land" at the crucifixion (Luke 23:44). We are back to the beginning!

Can we see it now?

Today, while we are at our worst, God is at her best — a mother giving birth to New Creation.

Behold, here is your mother.


Kris Rocke
Executive Director
Street Psalms
https://streetpsalms.org/wp-content/uploads/2016/03/Untitled-1-16.jpg
413
624
Kris Rocke
https://streetpsalms.org/wp-content/uploads/2018/02/Site-header.png
Kris Rocke
2016-03-25 16:01:28
2016-08-11 13:48:28
Good Friday