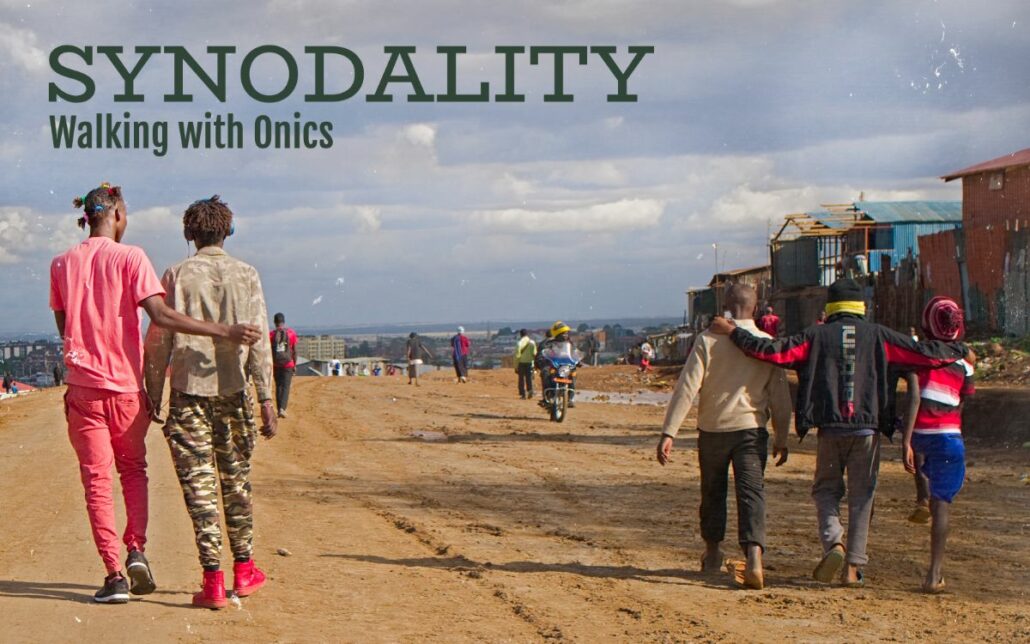 An Open Letter to the Community around this year's theme.
Greetings,
Each year we choose a theme to help guide our work of freeing leaders to create cities of peace for all people.
Our theme this year is synodality. It means "walking together."
This month I want to share a story about a courageous soul who is growing my heart and expanding my vision of what's possible. I write this with the full consent and the help of my friend Onics, who can now add "author" to his amazing resume.
On November 3, 2021, Onics landed at Seatac Airport. It was his first plane ride and it was a doozy: 25 hours from Nairobi to Seatac.
On the night of his arrival, we stayed up late in my living room, catching up and retelling the story of how his journey had brought him halfway around the world to Tacoma.
I thought I had a good grasp on the story as I had been meeting with Onics on zoom for nearly two years, after having been introduced to him by a mutual friend. In fact, after our initial meeting, trust grew quickly between us. Our family and some friends began supporting his work at MAREPA (Marginalized Refugee Empowerment Program Africa – see www.marepa.org to learn more), an organization he founded to provide emergency shelter for LGBTQ refugees. But somehow I missed the part about how the Vice President of the United States, Mike Pence, factored into his story.
So, that first night in our living room, Onics gave a more detailed version of the story, which resulted in him being granted a visa to come to the United States as a refugee. He retold the part about his stay at the Kakuma refugee camp in Kenya. He said,
"There were roughly 250 LGBTQ refugees in the camp. We were being overlooked and mistreated. We began advocating for our rights regarding basic needs afforded to all refugees. But then things got ugly – really ugly. The police initiated violence. It got crazy. There was blood everywhere."

Onics then offered to show me the attack captured on video that went viral." I passed.
Through a series of activists on the social media chain, the video landed on the desk of Mike Pence, who was being pressured to intervene. The irony of Mike Pence's intervention on behalf of the LGBTQ community was not lost on Onics. Nevertheless, Pence made some phone calls. As a result, several countries provided refugee status to this community of refugees. A process that can normally take years took just a few months. This community of refugees was effectively allowed to jump to the front of the line – a line where you have about a 1% chance of being granted refugee status. And now after a lifetime of fleeing violence, Onics was sitting in our living room, telling me this story.
We weren't sure whether to laugh or cry. What I remember so vividly is thinking what a privilege it is to be hearing this.
Upon his arrival to Tacoma, Onics was received with open arms by a community here, led by World Relief and anchored by a local church called Urban Grace. A network of friends pitched in. It's only been 5 months since Onics landed, but he now has his own apartment. He also has a full-time job, with benefits, advocating for other refugees who are being resettled here in the Pacific Northwest. His role is to help them navigate the maze of things necessary to start a new life in a foreign country. He's really good at it!
Each month, Onics and I walk together. Each month the story gets bigger and more amazing.
For example, I learned that Onics has been fleeing violence since he was 8 years old. His family was caught in the Rwandan crisis in 1994 when nearly a million Rwandans were slaughtered in 30 days. He and his family fled the violence on foot. He settled in Kampala, Uganda, until it was discovered by his family that he was gay. His family tried to kill him twice. "Once by poison and the other by fire," he said. Onics escaped to Sudan. There, in a refugee camp, someone shot Onic's partner, thinking they were shooting Onics. Upon shooting Onic's partner, who lay sleeping alone in his bed, the shooter discovered that he had just killed his own brother. Onics then fled Sudan and went back to Uganda.
Years later, still fleeing violence, Onics made his way to Kenya. That's where the violence broke out in the refugee camp and he was fast-tracked to the U.S.
A couple of months ago, Onics was over at the house for dinner with my family. He was telling more stories. He's a great storyteller, though it's best not to be in a hurry. He's very detailed and his stories take a while to tell. Thankfully he tells them wholeheartedly and with great humor. It was a great evening. He held our entire family for three hours around the table. Our boys listened intently and never once left the table. At the end of the evening when Onics was ready to leave he grew strangely serious and paused. He said, "I want to share one more thing. I recently went to the doctor for a check-up. My tests came back negative for HIV."
We knew Onics had HIV and had lost a partner to Aids while in Kenya. For years, Onics had been taking a cocktail of meds to stay alive. There in the hallway, with our family gathered around him, Onics was visibly shaking. His head bowed, he kept repeating how hard it was for him to accept this news.
We were confused.
The news he was sharing seemed great, perhaps even miraculous. And yet it weighed heavily on him. He was tested three or four times at two different clinics to be sure. Both he and the doctors were baffled.
On the drive home that night we tried to make sense of what he was feeling, though it was not easy for him to express. I shared with him St. Paul's phrase, "weight of glory." We talked about what it's like to experience so much goodness in such concentrated form. We talked about how heavy that goodness can be sometimes. He said, "Yes, that's exactly what I am feeling, the weight of glory."
"For as long as I can remember," he said, "I've been forced to reconcile myself to the likelihood of an untimely death. And now I am trying to reconcile myself to the likelihood of a full life and the responsibility that comes with it. I must have been saved for a reason. I want to serve my people."
For years Onics lived with the sense that he would one day die of AIDS if not from the violence he was fleeing. And now he was trying to absorb an entirely new reality.
There is a well-known tool called the Adverse Childhood Experiences (or ACE's) quiz. There are 10 indicators that measure the level of trauma experienced in childhood. The higher your score the higher your risk of other health concerns. Onics scores a seven on the test, which is very high. I score a zero. Onics is immensely resilient and motivated. I, on the other hand, can barely get out of bed sometimes, and mutter about how things are falling apart.
Father Greg Boyle, often talks about standing in awe of what the most vulnerable have to carry rather than standing in judgment for how they carry it. Well, I stand in awe on both fronts – for what Onics has to carry, and the dignity with which he carries it.
I'm honored that I get to walk with Onics and bear witness to how he shows up for life wholeheartedly. He makes me want to do the same. Thanks to all of you who stand in awe of the most vulnerable in your context. What a gift to walk together.
Peace,
Onics and Kris